Introduction of Tetsuya WATANABE
* Current Affiliation and Contact Information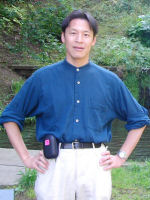 Tetsuya WATANABE, Ph.D.
* Biography
* Research Interests
Human speech, human-computer interaction and sensory aids for blind people.
* Affiliations
The Institute of Electronics, Information and Communication Engineers
The Acoustical Society of Japan
Japanese Association of the Rehabilitation for the Visually Impaired
The Virtual Reality Society of Japan
Human Interface Society
* Paper List
Paper List
* Hobbies, likings
Now enjoying, travelling (especially visiting hot-spring resorts), reading books, aikido (one of Japanese martial arts), marathon, cycling (only in the U.S.), and wining and dining.
Used to do playing the guitar, playing table tennis, soccer, and skiing.
---
HOME -> Members' and Collaborators' Page
---